29 février 2012
3
29
/

02
/

février
/

2012
09:08
Translation of an article written by me and published in "Libération", a daily national newspaper ( one of the biggest in France )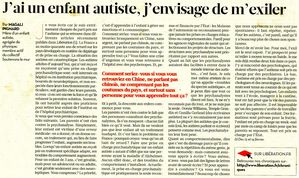 I am writing to you because I am extremely shocked by the bias you show on the different articles you have published about autism.
Today France is at least 40 years behind other developed countries in autism screening and therapy; the situation of people with autism is disastrous: autistic adults nowadays who have been provided
psychoanalytic treatment only, are

- Either placed in hospitals or mental health institutions and having high doses of neuroleptics; their specific functioning are not respected by care-providers;
- Or they are looked after by their parents, who still have the strength to do it and refuse the first solution; most of them have struggled against the practitioners to have their child removed from the mental health institution or hospital.

I want you to realize the following facts:
- Parents have nothing against psychoanalysis: their children are just the victims of medical errors. They have been provided a treatment which, instead of improving their children's abilities, increases their disorders. When an autistic child does not receive a specific, appropriate treatment, his behavioral disorders increase. With a three-year-old child it is still manageable; but a teenager or an adult can be managed with neuroleptic medication only.
Do you understand? The priority is to teach the child how to deal with his emotions and to communicate.

How would you feel if, all of a sudden, you find yourself in China, with no money, and you don't know the language nor the customs of the country, and worst of all, you don't know anybody to learn you all this? You are having an anxiety attack; and you find yourself at the hospital, on psychotropic medication, and gradually, the downward spiral begins for you.

- Parents have nothing against the fact that people consult psychoanalysts, actually they don't care about it: everybody does as he pleases.
But they don't want their children to receive inappropriate treatment.
And that's the problem we have in France: why do you think we are so many years behind? A psychoanalytic treatment on an autistic child is just as effective as it is on a person with Alzheimer's disease, for
example; it is merely ineffective, therefore behavioral disorders sets in…
Currently the psychoanalytic method is practically the only recognized and funded by the state: the adapted housing structures almost never use behavioral or educational techniques. Same for the Regional Health Agencies that select future structure projects. Structures with psychoanalysis have priority over others.
As for the claim that psychoanalysts have abilities to enter the internal world of autism ... this is wrong: I have autism spectrum disorder and what they say is false: I do not recognize it, and I'm not alone. Donna Williams, Temple Grandin, Gunilla Gerland (3 autistic writers) do not recognize it. Most autistics I know (and yes, autistic people can speak and write) think like me.
Psychoanalysts make them afraid.
As for the claim that behaviorism is like animal training, because it is repeating the same gestures: well, how did you learn to write? Didn't you yourself made pages of letters as you learned to write?
And driving a car? Did you learn it right away?
Many things we learn are not spontaneous: we must repeat, repeat: for autism it is the same, except that there are many more skills that are not spontaneous.
Thank you for reading.
For me, exile is the only hope ... I looked into exiling myself in Sweden for a while.
I went there twice. I met psychologists there, who were dismayed that care of autism is controlled by psychiatrists. Over there it is treated by psychologists, neurologists.
The children go to school, eat at the cafeteria ... everything is done to make parents' lives easier. It is unthinkable that one parent would have to stop working to care for her child. Everything is taken care of by the state. Workshops are planned for siblings, etc ... all for free.
The child is taken care of one weekend per month in a recreation camp, so that the parents can relax. Free.
With psychologists, parents know what is being done for their child, not kept in the dark.